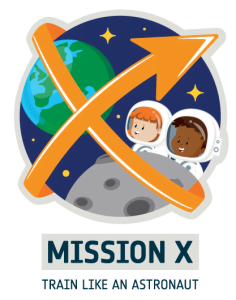 Mission X: Tren som en astronaut er et gratis utdanningsprosjekt for elever i alderen 8–12 av European Space Agency (ESA) og UK Space Agency (UKSA), tilrettelagt nasjonalt av European Space Education Resource Offices (ESEROs) og frivillige nasjonale arrangører. Siden oppstarten i 2011 har Mission X engasjert over en halv million elever over hele verden.
Utviklet av romforskere og treningsfagfolk som jobber med astronauter og romfartsorganisasjoner over hele verden, bruker Mission X spenningen ved romutforskning for å inspirere elever til å lære om vitenskap, ernæring, trening og rom.
Hvert år, fra januar til mai, kan elever delta i Oppdrag: Gå til månen.. During the challenge, teams complete the Mission X activities and submit them to earn steps. Steps earned by all of the participating teams help the Mission X mascots, Luna and Leo, walk 384 400km – the distance from Earth to the Moon. Learn more about the challenge her.
Er ikke landet ditt oppført?
Du kan fortsatt delta i utfordringen! Registreringen din vil da bli administrert av den nasjonale arrangøren i Storbritannia. 
Nasjonale arrangører og deres partnere hjelper til med å markedsføre og støtte Mission X-prosjektet i hvert av våre deltakerland.

ESERO Austria
Partners: Ars Electronica Center Linz, RUAG Space, ALR/FFG, Astronaut Franz Viehböck, Stem & mint e.U. Space and Science Communications, Austrian Planetarium Society
 ESERO Belgium (French), ESERO Belgium (Flemish)
Partners: Euro Space Center
Universidade Estadual do Norte Fluminense og Louis Cruls Astronomy Club General Coordinator
Planetarium
Partners: ESERO Denmark
ESERO Finland
Partners: Skolresurs/Resource Center for Science, Mathematics and Technology at Åbo Akademi University, Heureka Science Center
ESERO France
Partners: Centre National d'Etudes Spatiales (CNES)
Volunteer Local Educator
Partners: Ellinogermaniki Agogi, The Greeks, Department of Law & Economics (University of Piraeus)
Kyorin University
Partners: JAXA
Space Education Centre
ESERO Luxembourg
Partners: Luxembourg Science Center, Luxembourg Space Agency, Luxembourg Ministry of Education, Euro Space Center
Astrofísica
Partners: Instituto de Astronomia UNAM

ESERO Netherlands og Space Expo
Andøya Space Education og ESERO Norway
Volunteer Local Educator
Partners: Gmina Gdów
Ciência Viva og ESERO Portugal
Partners:  Faculdade de Motricidade Humana da Universidade de Lisboa
ESERO Spain
Partners: Parque de las Ciencias og ImFine Research Group (INEF–UPM)
ESERO Sweden
Partners: Swedish National Space Agency
Volunteer Local Educator
ESERO UK og UK Space Agency
Partners: STEM Learning
  Volunteer Local Educator